SFO City Hall vibrates with Fil-Am history glitters
By Federico Acuña Espiritu
The San Francisco City Hall overflowed with variant endearment paramount to the Fil-Am's heart as Mayor London Breed hosted a vibrant program that fleshed out her issued declaration of October as the Filipino American History Month at the Rotunda last October 5.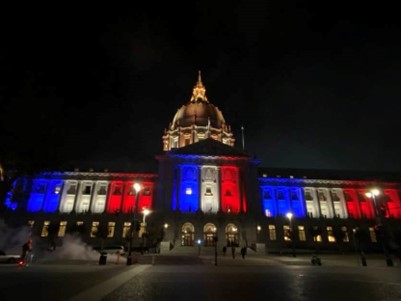 The sweet voices of the St. Augustine Children's Choir dished out the Star-Spangled Banner followed by Carlen Ocampo's Lupang Hinirang rendition. Ancient Baybayin calligraphic writings of 15th century Filipinos being popularized in nouveau graphic artform by the Manila-based artist creator Ian 'Taipan' Lucero who was sitting serenely in the audience became poignant stage backdrop, award mementos, and featured in the Caligra Filipino reception exhibit.
Mayor Breed cited that the FilAm community is an important part of the fabric of what makes San Francisco great today while paying tribute to people and organizations who were involved in carving out the history being celebrated.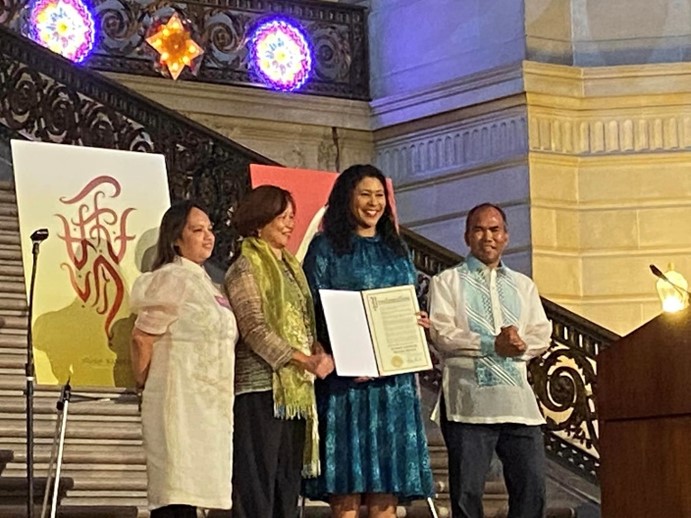 In response, Consul General Neil Ferrer of the San Francisco Philippine Consulate expressed elation to Mayor Breed, the Board of Supervisors, and other officials present for their recognition of the significant contributions of Filipino Americans in the city. Consul Ferrer also thanked the White House for issuing last October a statement by President Joe Biden acknowledging the positive force of the Filipino Americans in the US when he said "Throughout the nation's history, Filipino Americans have played an essential role in writing the American story: serving the country in uniform, starting new businesses, advocating for worker rights, to working in the frontlines of the pandemic as health care workers, first responders, and educators. Filipino Americans have always worked to make the country free and freer, just and strong, noble and bold."
The Biden accolade was sustained in the keynote speech of Carla Laurel, Executive Director of the West Bay Pilipino Multi-Service Center, specifically honoring the resilient Filipino American women and mothers who went through untold sacrifices when they went to America, landed in SOMA, tirelessly yet humbly endured family separation, and worked multiple jobs to provide food for their family.
                The Filipino American History Month honorees this year are Emerging Leader Awardee Simon Timothy, founder of Advocates 11, Community Champion Awardee PAWA Executive Director and Filipino American International Book Festival Co-Director Edwin Lozada, and Trailblazer Awardee Bernadette Sy of the Filipino American Development Foundation. The honorees also received a recognition award from FilAm Solicitor Rob Bonta.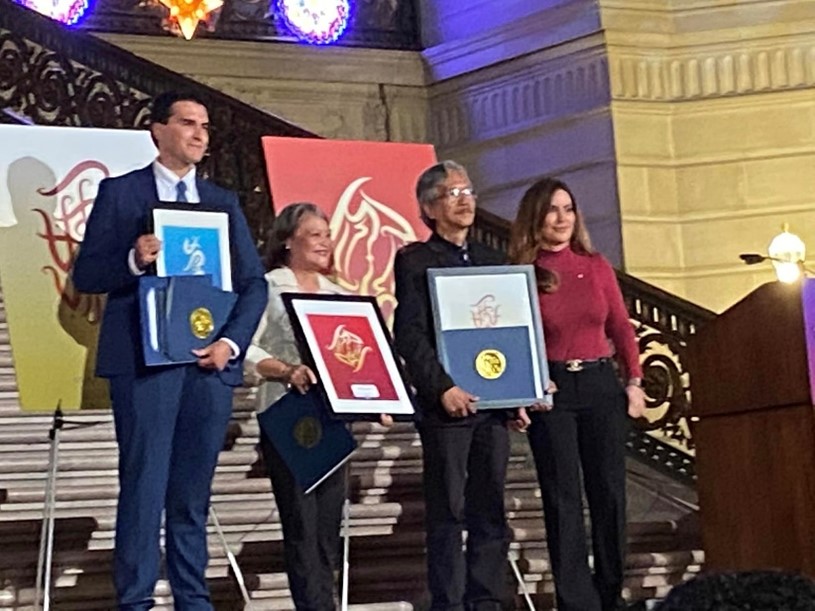 This year's honorees (from left) Simon Timothy, Bernadette Sy, and Edwin Lozada received framed awards written in Baybayin by artist Ian 'Taipan' Lucero of Caligra Filipino.  (Photo by Feddie A. Espiritu)
The FilAm Night was spiced up by a cultural presentation by the Parangal Dance Company and the USF Philippine Dance Culture and a lively performance by the rapper. director, scientist, spoken word artist, and beat rock musician Ruby Ibarra (Photo by Feddie A. Espiritu)