New AARP National Survey Reveals Connection Between Discrimination and Women's Mental Health, Financial Health
On average, 60% of Asian American and Pacific Islander women age 50+ experience discrimination regularly
WASHINGTON — AARP released new results from its annual survey, Mirror/Mirror: Women's Reflections on Beauty, Age and Media™. The study reveals that 60% of Asian American and Pacific Islander (AAPI) women age 50+ experience discrimination "at least sometimes."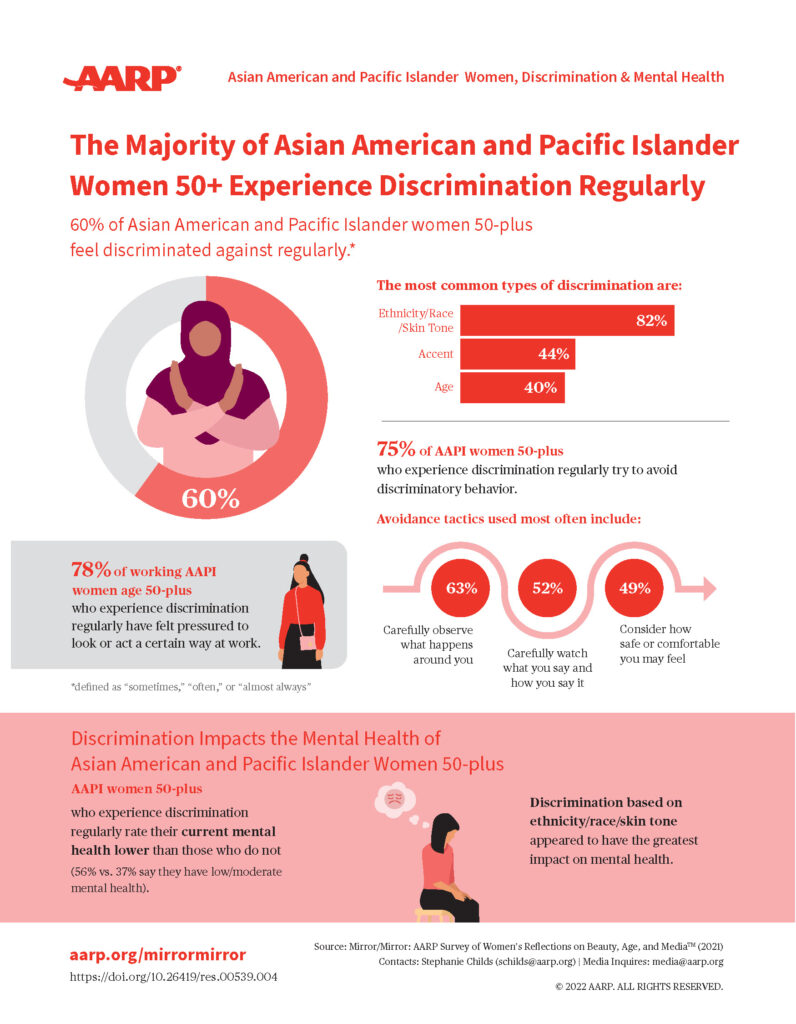 Furthermore, AAPI women 50+ who experience discrimination regularly are subjected to it most frequently because of their race, ethnicity and/or skin tone (82%). Yet, close to half (44%) cite their accent as another top reason they feel discriminated against, followed by their age (40%).
Not surprisingly, AAPI women who experience discrimination based on ethnicity/race/skin tone rate their current mental health lower than those who don't.
AARP's Mirror/Mirror™ survey shows that while experiences of discrimination may vary, 75% of AAPI women 50+ who experience discrimination regularly deploy avoidance tactics in similar ways:
63% closely observe their surroundings
52% carefully watch what they say and how they say it
49% consider feelings of safety and comfort in their everyday interactions
The survey also unveiled that AAPI women of all ages experience work-place discrimination regularly, with 56% of working AAPI women 18+ who experienced discriminatory practices that impacted their earning potential as well as their financial health. Of these working AAPI women 18+:
44% have been overlooked, disrespected, or devalued by a client or a colleague while at work
33% have been passed over for a raise, promotion, or an opportunity to get ahead at work
26% have been told to behave a certain way at work
25% have been excluded from projects or meetings at work that would have helped them advance their career
18% have been unfairly fired from a job or not been hired due to an unfair hiring practice
"Being an Asian American and Pacific Islander woman has always been challenging due to the stereotypes we have had to endure. On top of having to overcome these stereotypes, AAPI women have had to contend with many forms of discrimination as well," said Daphne Kwok, AARP Vice President, Asian American & Pacific Islander Audience Strategy, Office of Diversity, Equity & Inclusion. "In the workplace, women, including AAPI women, should not have to combat barriers like age, ethnicity, or any other factor to work, succeed, and excel."
To learn more about AARP's Mirror/Mirror™ study, go to http://www.aarp.org/healthyliving. For tips, tools, and resources on how to stay mentally and physically fit visit: https://www.aarp.org/work/.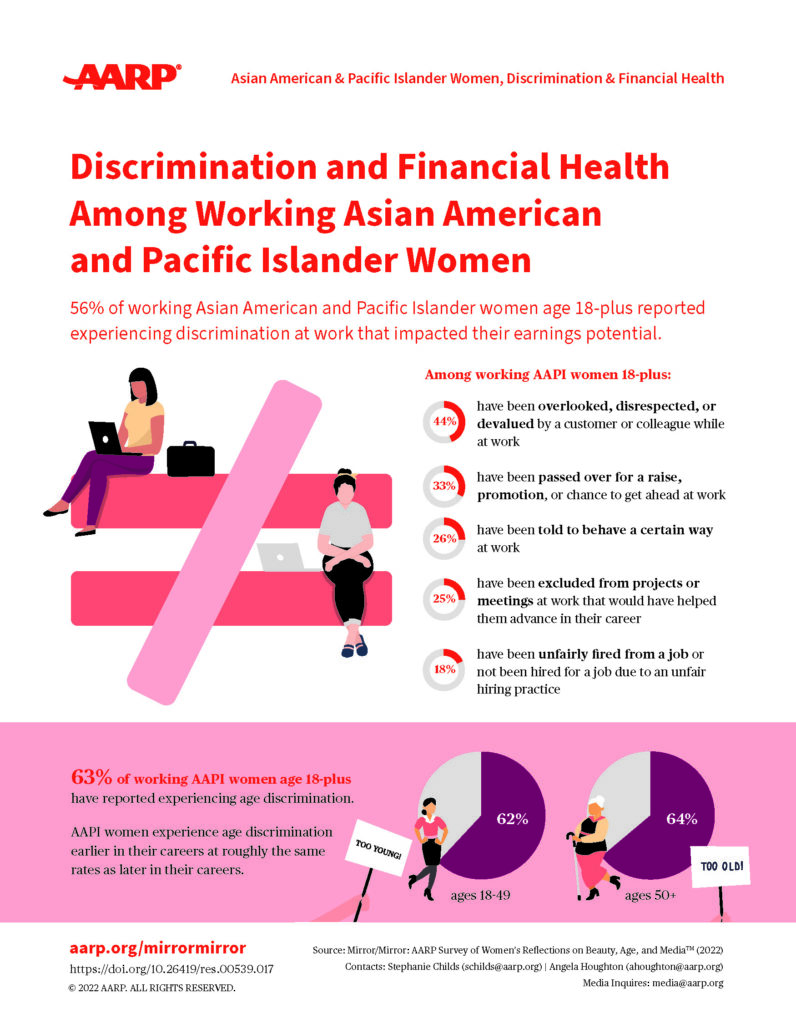 About AARP: AARP is the nation's largest nonprofit, nonpartisan organization dedicated to empowering people 50 and older to choose how they live as they age. With a nationwide presence and nearly 38 million members, AARP strengthens communities and advocates for what matters most to families: health security, financial stability and personal fulfillment. AARP also produces the nation's largest circulation publications: AARP The Magazine and AARP Bulletin. To learn more, visit www.aarp.org or follow @AARP, @AARPadvocates and@AARPAAPIon Facebook and Twitter for more community news and videos. For translated resources, please visit the AARP Chinese website, or our AARP pages in Korean and Vietnamese.
Follow us @AARPAAPI for more news and videos.