By Jun Nucum
Former employees of ABS-CBN now based in North America who spent much of their professional lives at the premier broadcast network of the Philippines expressed shock and disbelief over reports that their "second home" would be demolished.
The Lopez family reportedly decided to demolish the iconic 3-4 hectare building that has been standing since 1968 along Sgt. Esguerra and Mother Ignacia in Quezon City to pay off operational cost. The operation management and employees have been notified that they were to move to the nearby 15-story Eugenio Lopez Jr. (ELJ) Communication Center before the end of 2023.   
Balitang America anchor Gel Santos-Relos said, "All the memories I have made there — all the dreams and struggles and aspirations and victories and epiphanies that have been part of who I am now would cease to have their home…I am broken. I mourn inside. A part of me has died…again and again."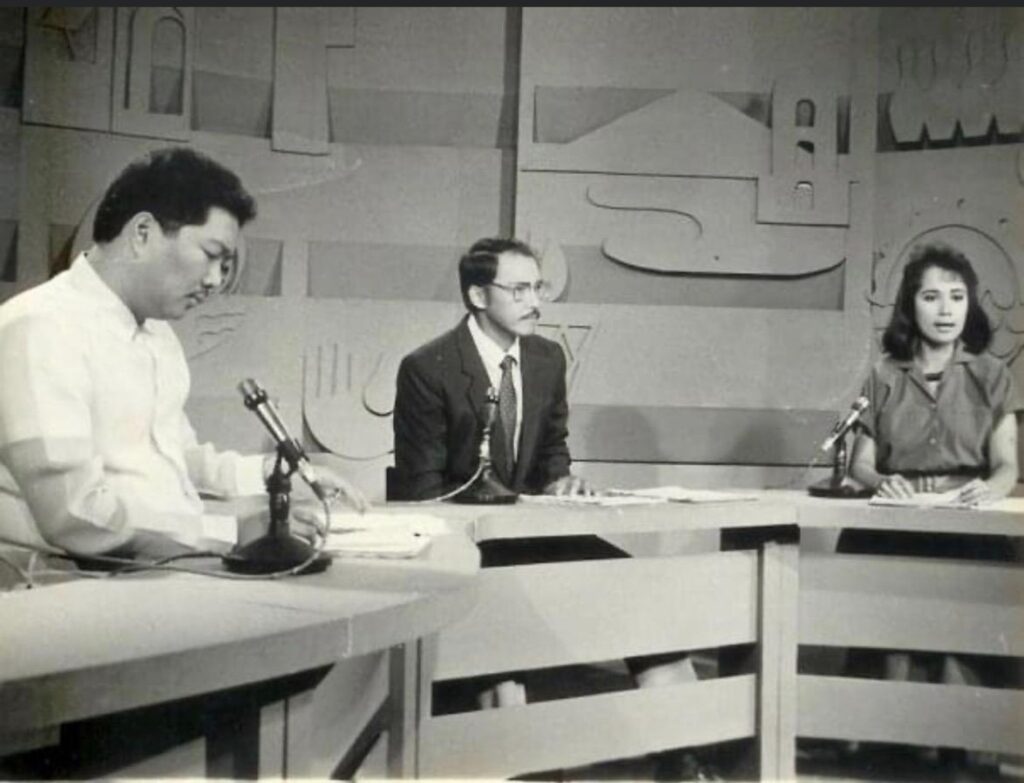 Relos also admitted that ABS-CBN has been a big part of her childhood, growing up in the Philippines. She waxed nostalgic and emotional in recalling that she "was just seven when I first set foot in the studios as a fan girl of the iconic channel's television program. This was when my dream to work in the broadcasting industry started to take root."
"It was through ABS-CBN that I was able to make a name for myself that made my family proud. It was through my job at ABS-CBN that I was able to help my husband raise our children while he was pursuing his medical degree that has now been providing us well in our new life in the US."
Relos added that it was through her career in the company that has made her earn her qualification to be granted a green card by the United States as an "Alien with Extraordinary Ability."
Backtracking, topnotch radio and TV entertainment program host Eddie Ilagan (or Edilat to his patrons at the original DWOW Radyo of the 1960s) who just came from the Philippines, did not hear about the news until he got back to the US.
"I'm sad of course. You're right, I worked, toiled, spilled blood sweat and tears at the ABS-CBN building. I am a very sentimental person. In fact, I am thinking of re-purchasing our old house in Philam Life Homes where I grew up. That's how sentimental I am," Ilagan said.
Ilagan was hired as a radio announcer in ABS-CBN in 1968 and regarded the building where he worked every day for 16 years as his second home — time enough for him to feel that his co-workers are "family."
"As a radio talk show announcer, every day is different which made life exciting for me. I cater showbiz news which has a lot of intrigues and controversies. Fondest memories were Staff Christmas Parties and other special occasions. It was so much fun in the entertainment world. I also appeared on television and I was a radio drama talent for soap operas, too. I learned and gained experience in broadcasting as I go along each day," recalled Ilagan.
Ilagan sadly recalled when good friend Roger Confessor, who is also a radio announcer, dropped dead in the opening of a basketball tournament at ABS-CBN. Another unforgettable experience was when their radio station DWOW became number one in the ratings.
"The take away (from what happened to ABS-CBN) is… when you demolish ABS-CBN you are not just demolishing a building. You will be demolishing lives of so many people who will have nothing to look back to what they used to call home," mused Ilagan who migrated to the US in 1984.
He was with a known tabloid journalist before Eric Racpan of the so-called night patroller of TV Patrol and DZMM radio when he ventured to broadcast the news instead at ABS-CBN.
"I felt so bad as I treated ABS-CBN really as not only a home but a learning institution. That is where I started in broadcasting. Too bad it became a victim of lies and revenge," said Racpan who is now based in Canada.
Racpan started as a reporter and eventually became a news editor but remembers vividly the moment when a gun was rudely pointed at him after he reported an alleged incident of police brutality and when his official vehicle turned upside down while trying to catch a story.
Currently with Corporate Affairs and PR of ABS-CBN International, Pia Lopezbaños-Carrion echoed Relos and Ilagan in saying that they are all Kapamilya or about family at ABS-CBN.
"I met my husband in that building in 1992 when he was a new hire. He was with the other artists in our Graphic and Design Department. In January 1998, we got married. After we had our son in 1999, we would bring him to work. Growing up, our son spent days — together with other children of our co-workers," Carrion intimated. "Our Kapamilya (coworkers) at ABS-CBN at the mother ship (Quezon City) are important part of the village that helped raise our son and who provided much support to our family."
"My first reaction was disbelief. Like What? Then sad and somehow heartbroken as the Bohol Avenue building was really my second home," reminisced Carrion. "I was interviewed there for a job shortly after ABS-CBN re-opened in 1986 (they were able to reclaim the property after the EDSA People Power Revolution). It was October 1986…. they called me and told me to report on the Friday of that week — so just a couple days after my interview and test. Then President Cory Aquino was coming to the ABS-CBN office."
It's still fresh to Carrion in her third floor office when they got wind of the of the coup attempts and it was also here where they experienced the strong earthquake on July 16, 1990 that left them diving for cover under tables, crying.
Carrion emphasized that the news of the iconic building to be demolished signals the beginning of a new chapter."
###