By Federico Acuña Espiritu
The fleeting eyes glance and the keen hands gracefully translated fitting interpretative strokes on once blank sketch sheets as a video camera projected on a TV screen the progress of the titillated subject's caricature image. Within the promised 5-minutes, artist Eli Africa sprayed aerosol protection on his appreciable work and gleefully handed it over to his amazed swift model. This is one form Eli Africa creates.
The 5-minute instant caricature sketches were top hits in the Art Pavilion of the recent Pistahan Parade and Festival at Eli's gallery spot riddled with photographs of finished products and past clients. But that is only a singular facet of Eli Africa as he already reaped laurels before and after graduating in 1999 from the University of the Philippines College of Fine Arts and then lectured at his Alma Mater from 1999-2003.
Today, Eli is preoccupied with Illustration, graphic design, videography, visual design, video production and editing, animation, event photography, and print design. He lists a host of corporate, and non-profits, including many other entities as satisfied clients. He is currently working on a multimedia storyteller using multiple medium forms for clients and causes that project the breadth of projects, clients, and possibilities as a content creator.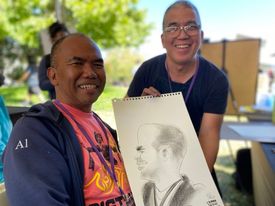 Eli's 5-minutes session with Pistahan President Al Perez. (Photo by Feddie A. Espiritu)
Al watches his caricature take form on a TV screen. (Photo by Feddie A. Espiritu)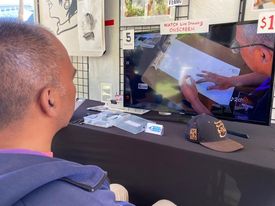 Smiles from the model and creator. (Photo by Feddie A. Espiritu)
Eli's 4-minute short film "The Two Brothers Who Raised Me" presents engaging narratives of Eli's difficult peasantry ancestral past and the struggles of his penniless Father Marciano and Uncle Baltazar who labored in the sugarcane fields of Hawaii to breakthrough from a life of scarcity back in their homeland. The brothers eventually endured the harsh farmlands of California, the punishing Great Depression, and humiliating anecdotes of class contention like the Delano Manongs (Larry Itliong, Philip Vera Cruz, and other Filipino farmer-leaders) who aggressively sparked the farm movement in America before the ascent of Cesar Chaves and Dolores Huertas leadership.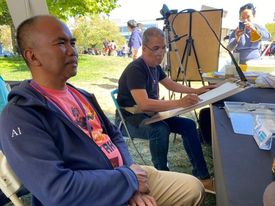 The young boy, who was born in San Bernardino, California that the elder Africa brothers raised in the Philippines, grew up with innate artistic talents, clinched his treasured milestone as he moved back to California that while working different visual artist jobs, his documentary film "Selling Songs of Leyte" won the Best Foreign Short Documentary at the New York International Independent Film and Video Festival in 2004. At around that time, the documentary was also shown at film festivals in Europe. Turkey, Australia, Philippines, and across US cities.
,