AAPI Homeowners Apply and Receive COVID-19 Mortgage Relief in Large Numbers, Averaging $30,000 in Free Assistance 
SACRAMENTO, CA – In recognition of Asian American and Pacific Islander Heritage Month, the California Mortgage Relief Program celebrates with the AAPI community and recognizes the countless contributions AAPI have had in helping build our nation. This month, the program took a closer look into how Californians across the state, with a focus on AAPIs, are using the funding available to pay past due mortgages and property taxes. Since the launch of the CA Mortgage Relief Program in December 2021, $400 million in aid for missed mortgage or property tax payments has been distributed to more than 15,000 homeowners that faced pandemic-related hardships.[1]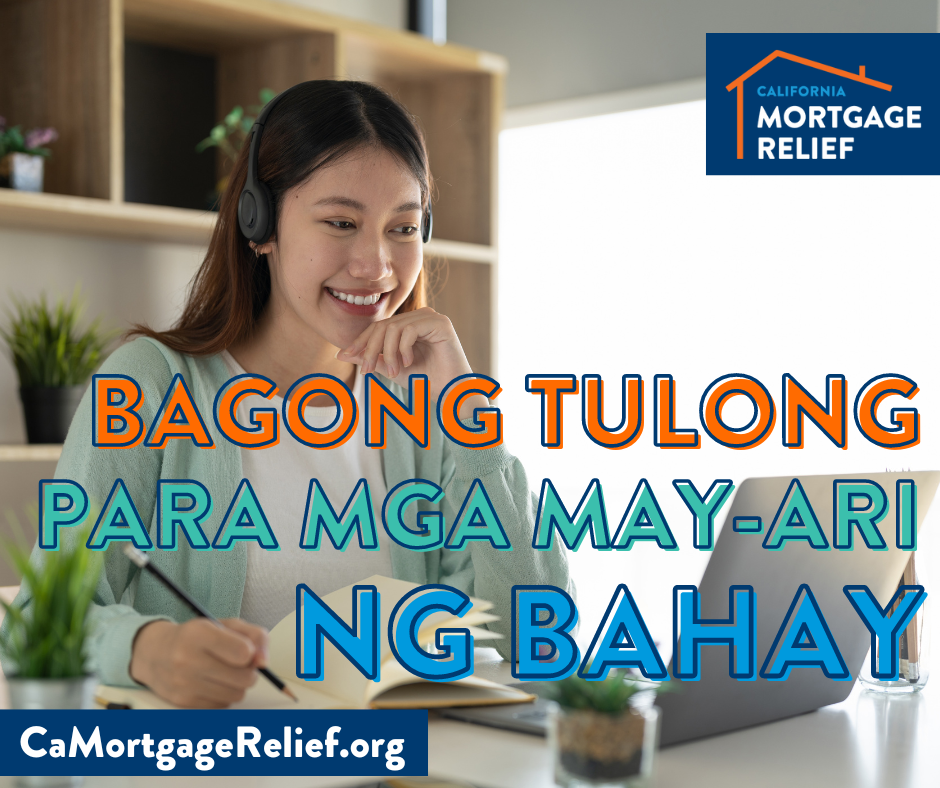 For over a year, the CA Mortgage Relief Program has kept Californians in their homes with a maximum of $80,000 in total assistance per eligible household. While AAPIs make up 15% of California's population, 62% of AAPIs are homeowners and 38% rent[2]. Data by counties indicates AAPIs are embracing the program and successfully receiving assistance in large numbers. For example, AAPIs make up almost 10% of all successful applications in Los Angeles County which has an average of $30,000 in aid provided. In San Mateo County, AAPIs make up 40% of all successful applications in the county, getting $33,000 on average. San Francisco County also shows 34% of successful applications from AAPI homeowners with average assistance of almost $35,000.
"Many AAPI homeowners hesitate to apply for help. The CA Mortgage Relief program is really easy to apply," said Jee Lee, CA Homeowner Relief Corporation Boardmember. "Mortgage and tax delinquent homeowners should definitely request for assistances for possible options and talk to persons to take you through the process in your language."
Key Takeaways from Program
The grants, which are free and do not need to be paid back, can be given to cover multiple areas of need from past-due mortgage payments to property taxes, reverse mortgages, partial claims and loan deferrals.
$400 million in aid has been issued to over 15,000 households so far.
Previously awarded homeowners who are still eligible and need more assistance can return for additional funds with a maximum of $80,000 in total aid.
Help is available for homeowners with partial claims or loan deferrals taken during or after January 2020
Applicants must have missed at least two mortgage payments OR at least one property tax payment prior to the delinquency date (March 1, 2023) and be currently delinquent.
Homeowners with a primary residence that includes up to 4 units on the property may be eligible.
Eligible homeowners must have faced a pandemic-related financial hardship after January 21, 2020
Full list of eligibility requirements here: https://camortgagerelief.org/whoiseligible/
"Our program has been moving quickly and tirelessly to ensure all eligible homeowners in need know about the program and apply," said Rebecca Franklin, President of the CalHFA Homeowner Relief Corporation (CalHRC), which is administering the program. "We will not stop till the program has fulfilled its promise to help Californians in need stay in their homes and thrive."
While there is no strict deadline for applications, homeowners in need should apply as soon as possible. Interested applicants can visit the program website at CaMortgageRelief.org to review eligibility information and apply through the online portal.
A detailed description of the terms for California's program, as approved by the U.S. Department of the Treasury, can be viewed here. Applicants will need to upload documents to determine eligibility, which may include mortgage statements, bank statements, utility bills, and income documentation (i.e., paystubs, tax returns, or unemployment documents). The application process can be completed in under 30 minutes once applicants have gathered all the required documents and information.
Homeowners with questions can call the Contact Center at 1-888-840-2594 between 8 a.m. and 6 p.m. Monday through Friday. Help is available through the Contact Center in more than 200 languages. They may also visit CaMortgageRelief.org/help to learn more about resources and assistance available to them.
###
The CalHFA Homeowner Relief Corporation (CalHRC) is a special-purpose affiliate of the California Housing Finance Agency (CalHFA). CalHFA is an independent state agency that helps low to moderate income Californians by acting as the state's affordable housing lender. Through CalHRC, the agency will disburse The American Rescue Plan Act's Homeowner Assistance Fund (HAF) on behalf of the State of California given its extensive expertise in the mortgage assistance and homeownership space.
For media inquiries, please contact [email protected].
Follow us on social media:
Instagram: @CaMortgageRelief
Facebook: @CaMortgageHelp
Twitter: @CaMortgageHelp
---
[1]Program Statistics. CA Mortgage Relief. https://camortgagerelief.org/programstatistics/
[2] Demographic Characteristics for Occupied Housing Units. 2021: ACS 1-Year Estimates Subjects tables. https://data.census.gov/table?q=acs+california&t=Owner/Renter+(Tenure)&tid=ACSST1Y2021.S2502